Who We Are: Halloween FX Props is a group of lost souls, forever intertwined, and sentenced to walk the earth for all of eternity making incredible Halloween Props.
What We Do: Halloween FX Props provides great Halloween props with fantastic customer service at reasonable prices. Masks, costumes, and scary effects too!
What We Believe: We believe customer service is the most important thing in business. We still operate like the old days when companies cared about their customers. We Warranty and Guarantee EVERY item we sell. If you are not happy for any reason, let us know.
From Pneumatic Props to Animated Props, and everything in between - Halloween FX has what you need. We carry over 9,000 items, including decor, lighting, Escape Room Props, latex props and more. We also specialize in making Custom Halloween Props. Just describe your idea and we will make it happen!
If Haunted Attractions are your thing...
Check out our new haunted attraction - Wisconsin Scaryland! The Midwest's premiere haunted house in Madison, WI.
Meet the Staff!

Guy AKA "Mr. Nasty" / Owner & CEO
Meet Guy, better known to his minion's as "Mr Nasty." He is the evil lord and CEO behind our operation. His favorite pastime is thinking up new, evil and torturous projects for all his minions to perform. In his spare time, you'll find him in the science lab, practicing his evil laugh while he plays with all of his mad scientist inventions. Our sinister lord is obsessed with bringing his unnatural creations to life and will do all in his power to bring his evil creations to every home in his realm.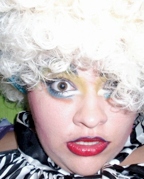 Amanda AKA "Hug-N-Kiss" / Warehouse Manager
Meet Amanda, AKA "Hug and Kiss". She is our go-to Warehouse Manager wonder. She is quirky and sweet, with a little sidekick demon in her back pocket she uses to corral all her minions in line. Obsessed with mixing her magical potions, she brings life and order to our warehouse staff with her witty charm. With her witchy ways, she is able to guarantee all our customers get everything they order in perfect time!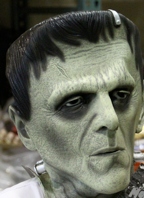 Brenda AKA "Dotes" / Creative Director
Brenda, or as we all here call her, "Dotes" can create magical beings and monsters right out of thin air. She simply cannot resist living inside her own head, which is where you will find her most days. But when she decides to join the crew in reality, she makes the most amazing props and decorations come alive with her mystical imagination.
Jermaine AKA "Jay" / Warehouse
This is Jermaine; we call him "Jay." Jermaine is always trying to hide from Amanda's pet demon. When he isn't playing with our Halloween goodies, he can be found packing, organizing, and moving products inside our warehouse. He is consumed by his need to create anything that has to do with fire and sparks and will light up the night in a hurry.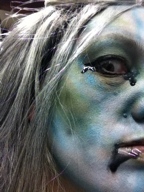 Sara AKA "Sarge" / Art Director
Sara, AKA "Sarge" is our Art Director. Sara is an art guru, and the last line of defense before the world sees all our glorious products. She has an eye for beauty, even within gore and that takes guts, as her nickname suggests! Although she is always nearby, she has a sneaky knack for disappearing, since she is absolutely fascinated with all things camouflage.